Konichiwa,
First, my mother is about to come back (I've missed her so much). She was traveling around Peru and I just can't go with her because I was still studying in the university when she decides to go to that country. I can't wait to see her, and also I wanna know what will she bring for me. As soon as she arrives, we will go to Bogota. ¡That's great cause this heat is killing me!

Second, I just visited the local anime store 'Shinigami Storm' and get super kawaii K-On! stickers. There's even one of Azu-nyan!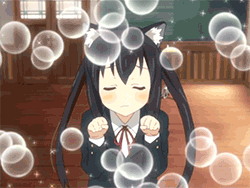 My baby Naruto posing with the stickers
Third reason, this blog has received it's first prize Thanks to Yas of http://mythoughts-shai.blogspot.com/

Apparently this award requires me to tell seven curious facts about me. So here they are:
1. My favorite food is my mom's tuna rice.
2. Since I'd moved into my appartment I only use the TV to watch things of the computer.
3. The first anime event I've been in my life is Shinanime, in Cali.
4. I listen to music in more than five different languages.
5. When there's noone to go with, I go to the cinema alone.
6. I'm against animal cruelty. Don't go to circus with animals, bullfighting or any of that events. Don't buy pets, adopt them and also I'm really involved in activities of Greenpeace and the WWF.
Last but not least, I'm really happy of how fast my affiliates list is growing up
¡Is really good having all this friends! I let a special page to share the banners of this beautiful blogs.
Happy and full of energy I start this week. Hope you have a great start for this week too.

Kisses***