Suzumiya Haruhi no Yūutsu, also know as The melancholy of Haruhi Suzumiya is the general name for a series of light novels written by the japanese Nagaru Tanigawa and the anime created by Kyoto Animation based on that novels. Genres: Fantasy, comedy, shounen.
The anime has two seasons and a movie: Suzumiya Haruhi no Shoushitsu or The Disappearance of Haruhi Suzumiya.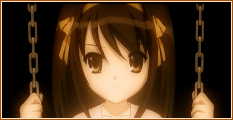 This is a new and fresh school story... the story of Suzumiya Haruhi: an eccentric girl, 15 years old, with powers she doesn't know about (that turns her into a Goddess, in some people's opinion) and the brigade she creates in her high school: 'SOS DAN', it's main goal is to find aliens, time travelers or people with superpowers. This group has other four members:
*Kyon: He is the one that tells the story. Is in the same class than Haruhi, and, without knowing, give her the idea of creating the Brigade, so he was automatically IN. He always try to calm down Haruhi, to protect the others, specially Asahina Mikuru, to do that he takes advantage of Haruhi's crush on him. His secret: He meets haruhi a long before she think. His crush: Asahina Mikuru y Yuki Nagato.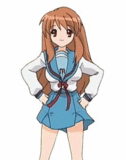 *Asahina Mikuru:
Older than the others, one grade up. Really shy and cute. Is the 'oficial pet' of the brigade and Haruhi's favorite toy. LOL.
Her secret:
She's a time traveler.
Her crush:
Kyon.
* Yuki Nagato: Lonely and quiet. A complete kuudere. She was in the reading club that closed because she was the only member. So she enters in the brigade. Her secret: She is an alien. Her crush: Kyon.
* Itsuki Koizumi: The last member of the brigade. Transfer from other scool. A cool guy that is always smiling. His secret: He has special powers and it's part of 'the Agency'. His crush: Haruhi Suzumiya.
My opinion: I get mad with the time loop on the second season. But besides that I enjoy all the anime and, of course, the movie. I just LOVE Haruhi, she's so unique! And even if not everyone understands this serie humor and all it's meaning, is definitely one of my favorites. Recommended!
Rating:
Suzumiya memorable quotes:
*"¿Have you ever realized how insignificant your existence is on the planet?"
* "If there's really that many people in the world, then there had to be someone who wasn't ordinary. There had to be someone who was living an interesting life. There just had to be. Why wasn't I that person?"
* "I'm Haruhi Suzumiya, from East Junior High. First off, I'm not interested in ordinary people. But, if any of you are aliens, time-travelers, or espers, please come see me. That is all!"
Wallpapers: