Ano Natsu de Matteru is an anime serie produced by J.C Staff and directed by Tatsuyuki Nagai. 12 chapter production shown on the TV channel AT-X. Genres: Romance, comedy, sci-fi.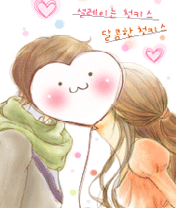 While Kaito Kirishima was trying his 8 mm camera in the night, he gets involved in a misterious explosion. Strangely, Kaito wakes up the next day okay, but withouth memories of the day before. After that, forgetting the incident, he decides making a movie with his friends during summer vacations and they invite two senior students to be part of the film: Ichika Takatsuki, new in the school, and the weird Lemon Yamano... but he doesn't know that Ichika is not a normal girl, she is from another planet.
The main characters of the story are:
* Kaito Kirishima: A first year student, really into movies. He wears glasses and his hair is gray. He gets and 8mm camera that was from his grandparent, and he carries it everywhere he goes. His parents died in a terrible accident years before so he lives alone with his sister, but he is still a really happy boy. Is a little shy, and like to daydream, sometimes he even confuse reality and fantasy.
His crush: Ichika Takatsuki.
* Ichika Takatsuki: An extraterrestrial girl that hits Kaito with her spaceship when she arrives hurting him. She is able to heal people with a strange technology that she applies with a kiss. The navegation system of her ship is a kind of pet super kawaii called Rinon. She cames to the Earth without her family's permission, searching for an special place that was hidden in her memorie.
Her crush: Kaito Kirishima.
* Kanna Tanigawa: New in the school too, studies with Kaito. Her hair is blue and short. She acts rude and a little manly adn tries to hide her feelings but is a noble and sensitive person in the bottom. Is really outgoing. Is in love with Kaito since the first time she saw him, loves his smile. She also have a friend called Mio and a childhood friend (Tetsurō) that are part of the movie too.
Her crush: Kaito Kirishima.
* Tetsurō Ishigaki: Schoolmate and friend of Kaito. Is tall and good with girls, really flirty. He is in love with Kanna, but he knows she loves Kaito so he decides to help her with Kaito 'cause he only wants her to be happy. Is a smart guy, knows a lot about girls and is good talking to help solving problems. His relationship with Mio is getting stronger during the vacations.
His crushes: Kanna Tanigawa y Mio Kitahara.
* Mio Kitahara: Kaito's schoolmate and best friend of Kanna. Is a nice girl, with long hair. Is clumsy, shy and quiet. Secretly in love with Tetsurō. She cuts her hair during vacations to show she is grown up. She give advices to Tetsurō about Kanna and how to strugle with his feelings. Mio is almost all the time a shy and innocent, caring and loving girl, but she hides an internal force that even Tetsurō had notice.
Her crush: Tetsurō Ishigaki.
* Lemmon Yamano: Lemmon Senpai is the weirdest character of all the serie, is all misteries. Has a cold personality, is really small and looks less than the age she really is, her voice is different and her laugh is hilarious. Her hair is really long and she always have two bows. She is Ichika's schoolmate and was the first one that talks to her when she arrives to school. Posee una apariencia menuda y una voz distintiva, su cabello es largo siempre recogido en dos coletas y su risa es muy peculiar. She enjoy recording what happens around to put it later in the movie. Somehow she knows everything about everyone and knows how to make other do what she wants. Always has a hidden trick.
She likes: Taking control.
My opinion:
A really short serie (only 12 chapters) but highly reccomended to lover of romance and school life kinda series. A good production but a common topic.
Rating:
Wallpapers: