Bakemonogatari is a japanese novel series written by Nisio Isin and illustrated by the taiwanese Vofan, and anime made by studio SHAFT based on it. Composed by 12 episodes and 3 OVAS. Nisemonogatari is the name of the sequel to this anime. Genres: psychological, romance, supernatural.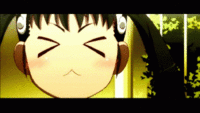 Bakemonogatari centers on Koyomi Araragi, a third-year high school student who is almost human now after having been a vampire for a while, he has two sisters and tries to live a normal life. One day, a classmate named Hitagi Senjogahara, who never talks to anyone, falls from a high staircase in Koyomi's arms. He discovers that Hitagi is light as a feather, physical contradiction. His curiosity take him to find out more about her and there begins a story full of mysteries, surprises, blood and love. In this series all carry their own demon because of their personality or their past experiences, nothing is as it seems and there isn't more to do than to expect the unexpected. While these strange cases are presented, Senjogahara and Araragi are developing a beautiful and rather strange affair at which no lack of obstacles to overcome.
The opening of the series varies depending on the case under investigation (or the character that takes center stage in the chapter) and a text at the beginning of the series that is presented very quickly also varies. The creator of the anime play a lot with the image, the colors and the mix of illustration and images of reality.
Koyomi Araragi
and Hitagi
Senjōgahara
Opinion: Seeing the first chapter was a great and resounding WTF?. It was so strange, but I noticed interesting things that made me keep watching. And I was right with my decision because it is indeed a very good series, very strange, both for its experimental image, psychological style and ecchi touch. But I enjoyed it and just keep curious enigma after enigma.




1/2
Opening 1 (My favorite of this serie):
Wallpapers: